Bayzi Corporation – High Impact Steam – Affordable Sanitizer Products for Deep Squeaky Clean
SaniZap®

machines offer modern cleaning and sanitizing methods for deep and rapid cleaning, disinfection and sanitation. Practice preventive risk mitigation with SaniZap®.  Use MightySteam® to maintain a healthy cleaning rotation for daily disinfection. Make it deep squeaky clean with SaniZap®.
Safe, Portable, Fast Acting and Versatile
SaniZap-1 – For rapid sanitation level cleaning.

Handheld backpack units.

Full Hi-Q steam above the common inversion temperature. Energy Conserver. 1 kW Power.
 SaniZap-600-4-240 – The World first multi-level cleaner. Covers antimicrobial, anti-dust, anti grime cleaning.

Mobile units deliver industrial strength super-heated steam.

UL power controls. For large and professional jobs. Versatile 4 kW Power.
Chemical Free Antimicrobial Sanitation.  Play video below to see which SaniZap® model may be right for you.  Please contact us for more information.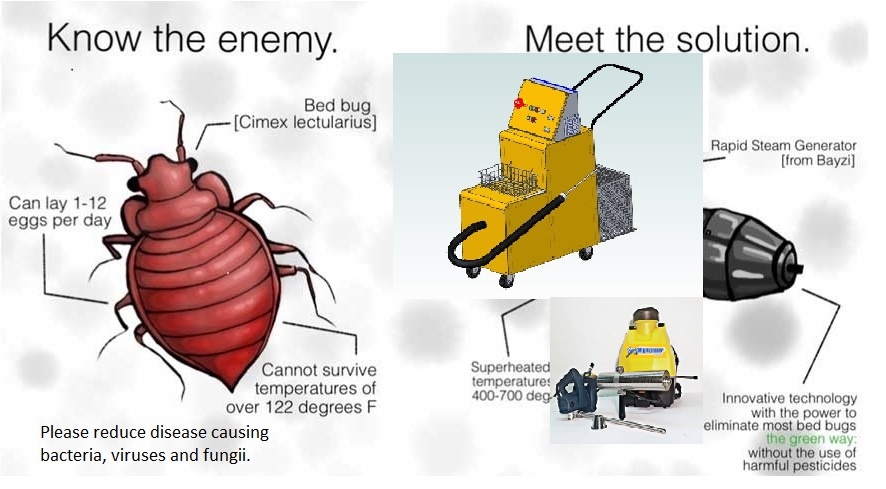 New: Enhanced discharge steam-jet temperature for the SaniZap® model.  The SaniZap® allows for faster and effective cleaning of surfaces.
Deep Penetration. Instant Steam. Quickly treat large area surfaces. High velocity. Quick on-off.  Defend with MightySteam®.
High temperature, moisture-free production of non-chemical steam (H2O). No organic residue from this steam. Clean without further contaminating.  Novel Technology.
Use in sensitive spots where chemicals should not accumulate. Sensitive spots include pet-messes and clean rooms. High-velocity steam outlet spray.
Best energy efficiency with patented steam production.  No boiler.  On-Off at will. Hi-Q Steam.
Easily dislodge hard to clean sticky substances with the high temperature steam. Cleanse at many levels. 
Control the temperature easily. With controls and application distance. Improved Productivity. Several programs are provided.
Recycling of plastics and other non-disposables. A steam cleaning regiment could provide rapid productivity and clean-ability to levels never experienced before – all without chemicals.
The type of steam cleaning also fits the real 'clean-up after a clean up' type of cleaning operation.  We recommend rigorous testing with good super-heated steam to ascertain whether new fungus strains of candida may be cleaned.
All devices feature high-temperature steam above the common inversion temperature.
The Latest Volume of Case-Studies. DATE 2020 / 10 / 13 ISSUE NUMBER # 3 Bayzi Case-Studies Issue 3 -Published