Bayzi's commercial steam cleaner models feature cutting-edge, BoilerFree™ technology that provides industry-leading 752 F/400°C or hotter superheated dry vapor steam.MightySteam® commercial steam cleaners generate the highest temperature steam of any commercially available steam cleaners. Higher temperature steam helps clean surfaces faster and more effectively.
Commercial Steam Cleaner Features
High Temperature 752

°

F/400

°

C or hotter Steam within Seconds.  Temperature is above common inversion temperatures.
BoilerFree™ Technology. No High-Pressure Boiler.
4 kW or 5 kW  Power Consumption – Saves on Energy.
SaniZap® Capable. Clean Surfaces Faster and More Effectively.
Highly Portable. Easily Stowable Units.
Extended Run Times. Hours of Runtime.
Quick on/ off for steam.
Benefits
Safe. No Dangerous High-Pressure Boilers.
No harsh chemicals just steam
Fast. Less Downtime Waiting for Steam.
Less time in setting up, more time using steam.
Patented Technologies. High Temperatures. Heavy Duty Steam.
Highest Temperature Steam. No Other Commercial Steam Cleaners Even Come Close.
Please verify what it won't or may not do before purchase.  There are no guarantees for specific application purposes.  Most often you will have to make your best judgment.
Our superheated steam is an excellent cleaning tool, but it isn't for every application. MightySteam® devices are not like carpet steam cleaners or traditional steam pressure washers. They are meant for delivery the quality and temperature of steam required for even the most challenging cleaning operations.  Contact us to discuss MightySteam's potential usefulness for your application.  Although steam, mainly correctly used superheated steam is a known antibacterial agent, there is not enough information for us to add about whether it will help with specific viruses like the Zika virus or microbes.  Please ask a trained and qualified microbiologist.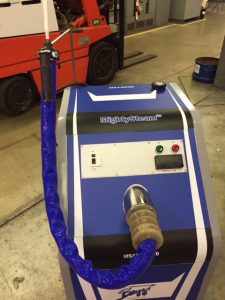 Does your cutlery in a restaurant require to be disinfected.  Please check out the MS400 with your own bacteriologist.  This could be a cause for problems even at home e.g.    Please also visit the MightySteam(R)   Faq's for some  limited guidance.  We are happy to consult with you but your own bacterial specialist should be involved to give you bias-free guidance.