SaniZap-1 Backpack Steam Sanitizer
SaniZap-1 Hand Held Unit with Backpack Water Reservoir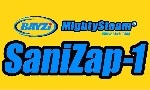 What is Purchased: Steam Generator Main Unit (The Patented Slimline Steam Generator), Backpack, Various Nozzles, Safety-kit (SK) and, User Manual included.
The steam extender 18″ is included
For the typical use of steam-based cleaning/sanitation and related decontamination.
Requirements at the user site: Water and Electric Supply.
Electrical 110/120V Electric
SKU: SaniZap-1 Categories: Anti Bed Bug Steam Use Models, MightySteam, MightySteam® Service, SaniZap Tag: High-temperature handheld steam generator for general purpose use
Main unit with Backpack Included
Backpack has Li-Ion rechargeable battery pump.  Re-charger is included
Elegant wheel-along container box included
For a limited time, the soil and steam extender 18″ is included at no extra charge
All cords included
Multiple nozzles included.  Special nozzles for general cleaning and deep cleaning.
Multiple delivery configurations
Variable temperature between 300°C and 400°C maximum.  Adjustable by flow. Fine tunable valve included
Operation is for 110V to 120V (50/60Hz) single phase
New technology to reduce any residual condensation and water residue.  Pure steam with envelope hot air drying combinatoric process-unit
Patented product.
Water refill time ~4 hours per gallon. Refill while in use.
Backpack can hold up to 4 Gallons ~15 Liters.  May be used with partial fill.
Boiler-free ~up to 1 kg/hour super-heated steam jet for cleaning and drying.
Easy Plug and Play
Continuous jet-use beyond an hour is allowed as long as device use is within allowed the specifications.
Safety distance flexible spring feature.
Safety against earth fault (ground fault) is provided.
(cUL) Canada Electronics are Offered where Required.
Current/Power ~1 kW Nominal
Pressure ~1 bar / 14.5psi absolute (0 bar relative to room).
Velocity of dry steam stream  ~10 m/s
Steam Production within minutes
Class 4 Indicator testing is offered
For easy steam cleaning and decontamination of targeted areas.
Additional information
Weight of Unit ~3.5 Kg
Dimensions 18 × 5 × 5 in
Arrives in drag along permanent box.  Easy to transport.
Supplied in wheel along elegant box that can be used for stowing.