Power ~1  KW. 120V required at source.
Mobile Steam Generation unit with
Anti Bed Bug Steam
Mobile Steam Generation unit for low-velocity steam spray.  Prevents blowing away of bugs.  Yet high temperature steam elimination.
Application/ Features
Deep Penetration. Improved Productivity. Reduced process time. Defend with MightySteam®.
Higher Temperature. Moisture-free production of non-chemical steam. No organic residue from steam. Clean without Contaminating.
Use in sensitive spots where chemicals should not accumulate. Sensitive spots include pet-messes.
Best energy efficiency with patented steam production.  No boiler.  On-Off at will.
Easily dislodge hard to clean sticky substances with the 450°C (842°F) type steam. Cleanse at many levels.
Control the temperature easily. With controls and application distance.
Recycling of plastics and other non-disposables. A steam cleaning  regiment could provide rapid productivity and cleanability.
Additional information
| | |
| --- | --- |
| Weight | 30 lbs |
| Dimensions | 36 × 36 × 36 in |
MightySteam®-BP-100 Vapor-M is a powerful high steam vapor (Backpack Model) 110V.  Power 1kW nominal.
MightySteam®-BP-100 features instant high specific humidity steam/air jet.   Compare to existing vapor steam generators.  Ask about our incredible warranty.
Box Contains:
Included:  All the tubes and electrical connectors that the MightySteam BP100 requires for air source Connector and water source that feed into the steamer unit. Air Source is user provided like a compressed air line or small drag-along compressor with a valve to set the flow.
Some assembly required but mostly plug and play.
Included:   The enclosed 110V water pump is rated for the MightySteam BP-100 Vapor-M.
Included:  Water tank  (The MightySteam®-BP-100 vapor-M model includes a backpack or set-down container with a pump for liquid. The default is the backpack water container).  The volume is ~2 Gallons for either type of tank.
The user may require an extended electrical extension cable; Units are only for 110V.
Please note that steam cleaning is patented.   Please do not violate any patents of product or methods of use.   Bayzi permits users to use the unit when purchased from Bayzi for soil treatment use without any extra IP charge payments.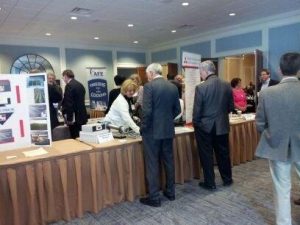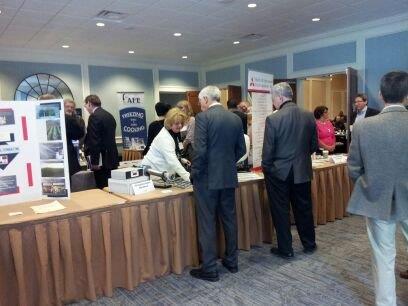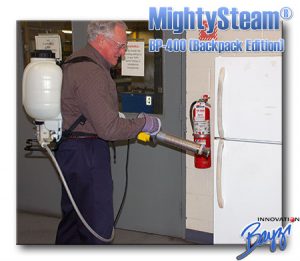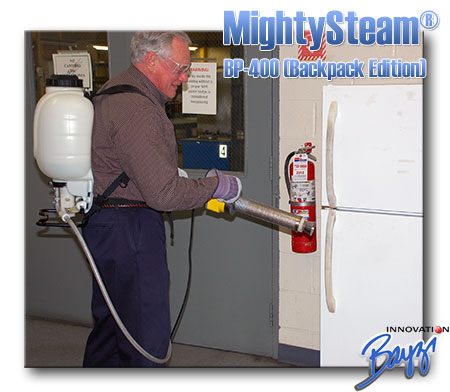 Incredibly Easy to Use
Spend less time setting up, and more time actually cleaning. MightySteam® prides itself on taking a minimalistic approach to steam generation. No boilers, no dials, no extensive configuration. Fill it with water, pump, plug it in and flip the power switch. Steam/Air is generated within moments of initial power. To switch from clean steam/air to non-condensing disinfection added grade steam, simply turn a knob.
Industrial Strength SteamVapor (Vapour)
MightySteam™ features durable, industrial grade components for a longer service life with less downtime. MightySteam™ generates hotter steam to tackle the toughest of jobs. Only MightySteam® offers high-temperature clean steam with a extremely low moisture content. Try it and see.
MightySteam®  Vapor does not use a pressure type of boiler
MightySteam® uses patented BoilerFree™ technology, allowing our devices deliver steam temperatures within about one minute of initial power. It also means no heavy pressure vessel to drag around and recertify each year.
Optional Hot Air Blower (115V only). VTA-01 600C.
Technical Specifications
Manufacturer/Assembly                 USA
| | |
| --- | --- |
| Volts | 110V |
| Current/Power | ~9 Amps (~1000W) |
| Phase | Single Phase, 50/60Hz |
| Pressure | 1 bar / 14.5psi absolute (0 bar relative to room). |
| Maximum Steam Temperature | 400C |
| Standard Steam Temperature | as per setting |
| Water Reservoir | >2 gallons with backpack reservoir (standard included). |
| Capacity | BoilerFree™. High. |
| Steam Production | As per setting |
| Heat-up Time | 10-60 Seconds |
| Runtime | ~ 2-3 Hours/Gallon |
| Body Material | Lightweight Composite |
| Dimensions | 25″L x 4″W x 6″H |
| Weight of Package | About 3 lbs for unit and about 40 lbs packaging without the backpack. |
| *Temperature Indicator | Not included |
|   |   |